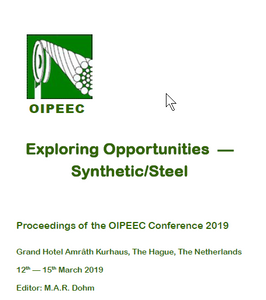 DELAYING OR PREVENTING TWIST EFFECTS FROM ROPE-SHEAVE INTERACTION
Summary
This paper addresses earlier studies and presents further research related to sheave and block design to delay rope twist and cabling phenomena, and introduces a patent pending principal solution to prevent it.
Hanging in free space, due to its natural behaviour, the hook block may unwillingly twist the rope it serves. These phenomena can, amongst others, be significantly delayed by choosing the correct sheave throat opening angle, but above all by lowering the coefficient of friction between the wire rope and sheave.
The patent pending "rope and cabling manager" implies a care free operation. The system will manage the rope twist on its own merit, promoting the ropes longevity and consequently preventing cabling from happening.
Author: J.H. Eertman