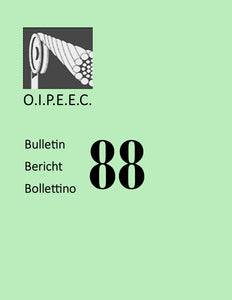 Even relief of stress in a rope may have disastrous consequences: Two examples
ln a study of the recovery length, all wires of sections in a stranded rope were broken on purpose (Figure 1 ). The sections were examined in static tensile tests. During one of these the rope was to be visually examined before it broke. The tensile force was not increased further, on the contrary it was decreased for "reasons of safety". Shortly after this decrease in load was started, the rope disintegrated explosively. We were startled and glad not to have been hurt. Therefore we did not follow up this incident. It is possible that the wires were not preformed properly and I or that they suffered an additional plastic deformation when they were broken in the first place. The loads normal to the wires or the friction forces that arose then could have built up the forces in the broken wires in a self-locking mode as the rope was loaded. When the load was removed from the rope this self-locking could have been released (Figure 2). 
Author(s): Oplatka, G.