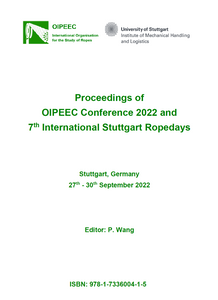 FIBRE ROPES ON TOWER CRANES ROPE DESIGN PARAMETERS AND FIELD EXPERIENCES
Summary
High strength fibre ropes made their way into steel wire rope applications successfully in the last years.
The advantages of minimum rope weight, easy handling, identical breakload/diameter ratio, higher operational safety and increased lifetime outweigh the higher rope costs when the full lifting potential is unlocked by redesigning the crane and thus increasing the lifting capacity significantly.
After a decade of research and development in a joint development project by Liebherr and Teufelberger, the 10t and 12t fibre rope tower crane models have successfully entered the market beginning 2020 using fibre rope diameters 20mm and 22mm.
The authors present the decisive rope design parameters that need to be taken into account for successful development of a high strength fibre rope suitable for use on cranes.
The adaptations of the crane components and the effects on the design of a fibre crane model with the highest possible load capacity are explained and the experiences from the field validation are shared with the topics that need special attention.
Author(s):  B. Ernst, Th. Herse and Y. Mupende