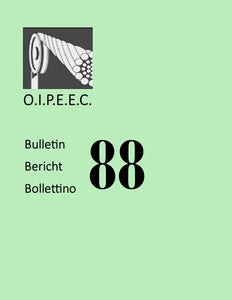 Integrated methods for testing and assessment of safety condition of steel wire ropes
Steel wire ropes are important load carrying elements of hoisting machines, rope railways, ski lifts, forest transport equipment and lifts. Most often, they work in severe conditions of cyclically changing loads, in the corrosive environment, etc. For this reason they undergo much faster wear as compared to other elements of machinery. The technical condition of these machines has a key influence on their continuous, failure-free operation; and, which is most important, the safety of the personnel taking part in production processes or servicing them. From the point of view of the theory of reliability, the operating ropes are non-renewable elements, and, with passage of time, various hazards may appear. Hence, a very important issue is the investigations of the safety condition of the rope, using more objective analytical methods when evaluating their results. This is of particular importance in the case of implementing new or modernized rope constructions, for which still there are not strictly defined criteria of admissible wear in the operational conditions. This paper presents new proposals of integrated methods for testing and assessment of the safety condition of operating steel wire ropes.
Author(s): Hankus, J.