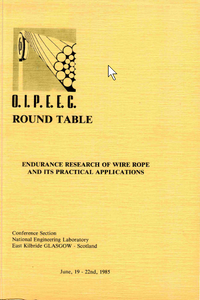 Performance of solid core wire rope
RoundTable – ENDURANCE RESEARCH OF WIRE ROPE AND ITS PRACTICAL APPLICATIONS – Glasgow 1985
Between October, 1983, and May, 1984, an unique aerial transportation system was erected across the
Mississippi River in New Orleans. The Gondola System called Mississippi Aerial River Transit (M.A.R.T.) is a major attraction of the 1984 Louisiana World Exposition. More importantly, M.A.R.T. will continue to
operate at the conclusion of the Fair as part of the City' s mass transit system, moving commuters, shoppers and visitors between the East and West Banks. M.A.R.T. is one of the largest privately owned mass transit systems in the world.
Author: P.E.J. Fletcher