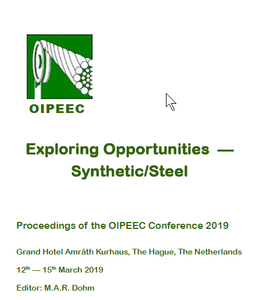 SEMI-AUTOMATIC VISUAL ROPE INSPECTION IN MINES WITH MINESPECT®
Summary
The hoisting ropes of a mining shaft are the core of the pit head frame. They are constantly on duty while any down-time of the winder causes immense costs. To ensure that the ropes are in operational condition, they have to be inspected with visual and magnetic methods regularly. An inspection not only requires a lot of staff but also reduces hoisting time by up to 1.5 hours, depending on the rope length.
Due to the limitations of the human eye, it is not possible to inspect the rope completely over 360°, nor is it possible to check the rope diameter or lay length over the entire rope length. Moreover, with decreasing concentration, the inspection becomes increasingly inaccurate.
The semi-automatic system is able to take recordings while the rope is moving at speeds up to 20m/s. Afterwards the acquired data is analyzed by a patented software algorithm. Deviations of diameter and lay length as well as defects like wire breaks are detected, highlighted and documented by the software.
The responsible operations manager only has to evaluate the highlighted areas shown by the software and to review the graphs of diameter and lay length.
Author(s): R. Söhnchen, A. Harrach and W. Strauch