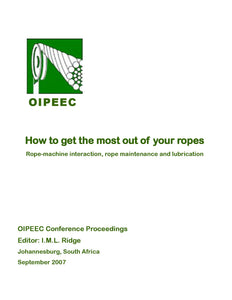 A method to increase the head rope life of a single conveyance friction hoists at hoisting distances up to 2,000 m by reducing the static load range
The rope service life for single conveyance friction hoists for deep shafts can be
increased, or alternatively the hoisting distance for friction hoists can be increased, by reducing the static load range. The static load range can be reduced by reducing the tail rope mass compared with the head rope mass. This solution can be used for friction hoists with a hoisting distance from about 1,400 m to at least 2,000 m. The static load range should preferably be limited to maximum 11.5 %, but a still lower value would be of advantage. Rope manufacturers should nominate the value for the rope type under consideration. For a single conveyance friction hoist the static load range can be reduced below 11.5 % without exceeding the acceptable margin against rope slip, even if the rope safety factor is as low as 6.0 at hoisting distance S < 1,850 m. A reduction of the tail rope mass will increase the required motor torque and motor power, and also increase the required braking torque. Compared, however, with the high investment cost for hoisting in two stages or the high cost for double drum or BMR hoists, friction hoists with reduced tail rope masses should be an attractive solution for high production mines. The energy consumption (in kWh) for a certain production / hour will not increase significantly.
Author(s): S. Grimestad and B. Johansson