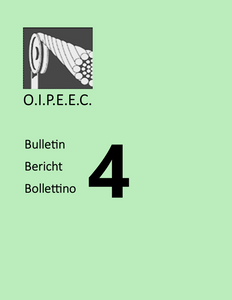 Bulletin 4 - News and Working Groups 1964
Complete News and Working Group Discussions from 1964.
Bulletin to include papers:
ESSAIS DE TORSION SUR FIL.
Author: M. VERWILST
 A SULI.A CORRELAZIONE TRA IL DANNEGGIAMENTO PER FATICA DEI FILI DI ACqAIO E LE LORO PROPRIET A' DI RESISTENZA ALLE PROVE DI TORSIONE CONTINUA.
Author(s): I. BERTOLINI, G. PAOLINI
 RENSEIGNEMENTS SUR LES ESSAIS PRELJMJNAIR E S OE F AT!GUE SUR FILS EFFECTUES AU IIL.ASORATORJO SPERIMENT AL.E D E I MATERIAL! DA COSTRUZIONE
 Author(s): U. ROSSETTI, M. THAON Dl REVEL.
 En vue de la reunion qui se tiendra a Zurich le 14 octobre prochain nous tenons a vous communiquer notre point de vue concernant 1es recherches a entreprendre au sein de la commission n, 2.
 Author: G. GOUSSEAU