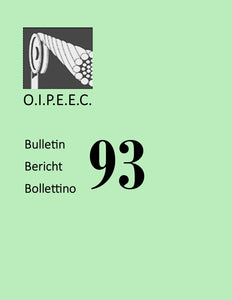 Comparative fatigue tests on small wire ropes with different shapes of pulley groove
The results of fatigue tests performed on a small wire rope (1+6+12) of about one mm overall diameter are reported. The tests were performed in a special 17 roller device. Three series of tests were performed with: cylindrical rollers, rollers with V shaped and with round shaped grooves. The tests were aimed at establishing the different fatigue lives with the different grooves to verify whether the lives with V shaped groove were greater than those obtained with cylindrical rollers and not too different from those obtained with standard round grooves. The scope of the research was, in effect, to find a shape of groove which would react in the same way with ropes of different diameters and also be able to produce a fatigue life comparable with that obtained with round, custom made grooves designed for a single rope diameter. Thus it would be possible to reduce the cost of wire rope fatigue tests by reducing the number of different pulleys needed.
 Author(s): Ciuffi, R & Piccioli, F.