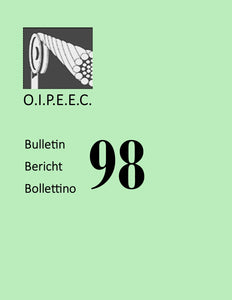 Endurance of wire ropes in rope drives, calculation methods
At the OIPEEC Conference 2009 / 3rd International Stuttgart Ropedays, O. Gronau and G. Steinbach [1] discussed the standard TGL34022 [2] of the former East German Republic, a maximum-effort-method, for the calculation of the wire rope endurance in rope drives. They found in most cases only small differences to the rope endurance, calculated using the well tested factor-method [3]. In the following this comparison will be repeated precisely using the endurance equations of both methods so that readers can follow the calculation step by step. From the loading elements in rope drives (simple bending, reverse bending and simple bending with fluctuating tension) only the simple bending will be considered, for which in both methods the endurance equations exist.
Author(s): Feyrer, K.