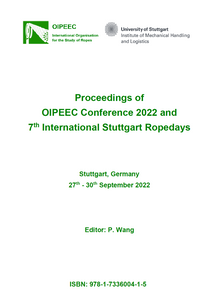 ENERGY-ABSORPTION CAPABILITY OF WIRE ROPES IN SAFETY APPLICATIONS
Wire and fiber ropes find a renaissance in safety applications. In the modern industry as well as in the field of public safety or defence, smart low-maintenance systems are needed to limit loads of heavy goods, to secure movement or drop-down of heavy masses or to catch masses or debris while withstanding blast waves. Examples of applications are catching drones, vehicles or protecting perimeter in case of terror attacks. 

Wire ropes are known as strong light weight construction parts which seem to be ideal for such applications. Nevertheless, the dynamic loading of wire ropes has only been researched on a case-specific basis, if at all. Simulation models are rare or subject to secrecy.
This leads to an increasing number of customer projects requesting data about dynamic resistance and energy consumption of ropes both in axial and transverse direction. Together with experienced project partners, Jakob Rope Systems has made several research tests to gain more information about these properties. While developing an energy absorbing system for ropeway rescue cars, drop tests have been carried out to verify theoretic dimensioning of axial energy consumption of wire ropes. In a second project with the German Federal Foreign Office and the ISL Saint-Louis, the resistance of ropes against transverse impacts of sheet metal at high speeds has been investigated to develop fencing systems for embassy perimeter protections. The paper and presentation will share testing-processes, results and interpretations of both projects.
Author(s): K. Kuehner, R. B. Pahl, M. Seidl, A. Klavzar