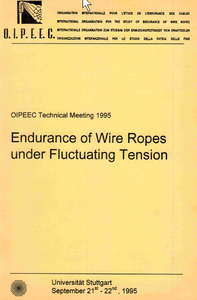 Fatigue of a steel wire rope at various periodically changing loads
Technical Meeting - Endurance of Wire Ropes under Fluctuating Tension – Stuttgart 1995
Introduction.
Steel ropes, just as other construction elements are liable to various changeable loads
during their operation. If the load courses recur identically as for their value, direction and sense
within constant time periods then we say that they are under an action of periodically changing
loads and strain. This strain causes a fatigue deterioration of the rope.
Author: Jan Hankus