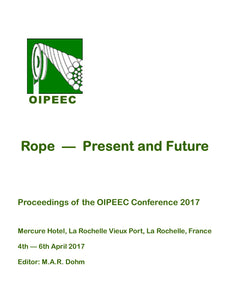 High strength fiber ropes for cranes
Ropes made of high strength polymer fibers are used more and more in industrial lifting applications. These fiber ropes can today offer identical break loads per rope diameter
as state-of-the-art steel wire ropes, yet weighing only 20-30% of a steel wire rope. A crane equipped with a high-performance fiber rope ("HPFR") can convert this weight saving directly into increased payload (lighter reeving), increased boom lengths and/or increased boom tip load capacities.
After seven years of development the authors present an HPFR specifically designed for the challenging demands of crane lifting applications. In real-life tests on different multilayer winch test stands and in numerous CBOS (cyclic bend over sheave) tests the fiber rope presented shows performance characteristics exceeding comparable steel wire ropes.
For a reliable determination of the point of discard the HPFR is equipped with different discard criteria. This allows the rope to be used in different crane applications, models and configurations as for example in construction-, auto-, crawler- and deck-cranes.
Author(s): Ernst, B., Kirth, R., & Mupende, Y.