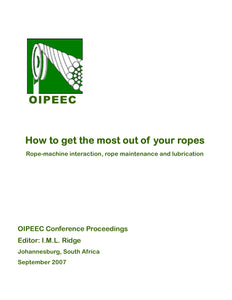 High strength fibre cored steel wire rope for deep hoisting applications
The concept of combining high strength fibre with steel to make lightweight ropes for deep shaft hoisting applications is not new. However, until now development of serviceable ropes has been hindered by technological feasibility. This paper reports on the progress in the development of such ropes being made as a joint project between fibre and steel wire rope manufacturers. An important objective in the design of such a "composite" rope is to ensure that fibre and steel elements take a proportional share of the load so that both fibre and steel components are used to their full potential. With these issues in mind, composite ropes have been designed and manufactured. Results are presented for initial strength measurements on ropes which show that a previously unattained strength to mass ratio is achievable. Some preliminary fatigue data is also included. Finally the authors discuss the further work needed before these ropes may be employed in winder installations.
Author(s): Ridge, I.M.L., O'Hear, N.,Verreet, R.,Grabandt, O. & Das, C.A.