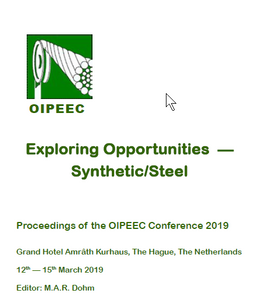 IMPACT OF REVERSE BENDING ON THE LIFETIME OF RUNNING ROPES
Summary
Ropes are nowadays in use in all kind of applications, as running rope and as machine element. For reverse bending in rope drives, limited research was done in the past and still many influences on the damage behaviour of ropes under reverse bending are unknown.
At IFT, tests on the influences of reverse bending were conducted with special focus on the impact of the axis distance of the sheaves inducing the reverse bending. These tests were done with steel wire rope and with a fibre rope.
As a result, the impact of the axis distance to the lifetime of the steel wire rope was significant. In some cases, the increased damage due to short axis distance compared to single bending was a factor 5.1, in most cases it was higher than estimated. Safety risks can occur in practice.
For the HMPE rope, the impact of reverse bending on small axis distances is much less severe.
Author: S. Hecht