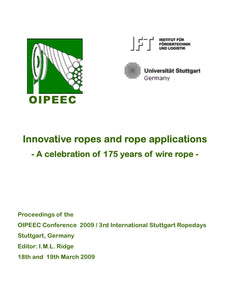 Innovative ropes and rope applications
Our theme of this conference in Stuttgart is Innovative Ropes and Rope Applications as we celebrate the 175th anniversary of wire ropes. Tonight I hope to observe similarities of these two concepts as a way to emphasize how we can achieve more in the future by having a better understanding of the past. The two concepts are similar but not exactly identical. Innovative ropes are solutions that evolve in response to pre-existing questions. Innovative applications are questions that arise in connection with pre-existing solutions. Neither can suddenly appear in a vacuum. Each depends upon a previous state of affairs. To better explain how this happens, my colleague in the United States, Dr. Robert M. Shemenski has contrived a term "technovation" to better emphasize how a new technique or a new technical device is always something that has been innovated, like the fruit on a tree, from an earlier technique or device. Our ability to comprehend how that happens requires a close study of historical facts surrounding the attainment. For my discussion, I will call that person who has devised an innovative rope or innovative application for rope, a technovator. It is an unfortunate fact that the history of technovation is our weakest form of history. In the past, I have argued there are two causes for this. The primary cause is that our academic, social, and religious historians do not or cannot write clearly about technovation because they do not understand it. The proof of this is obvious. We have an international organization, the Society for the History of Technology formed in 1959. They have since published thousands of articles in a journal. For half a century. A search of their index reveals exactly one entry in 50 years for the key words "wire rope" yet wire rope is one of the most useful, ubiquitous products ever devised by technovators. The second cause is that the technovators themselves often are poor historians. They do not provide us with documentation explaining the evolution of their new device or new technique. The technovator often does not explain, and therefore cannot document completely, the process which has produced an innovative rope or rope application. Part of the problem is that new words, sometimes words that do not exist, are required for an explanation, but more often it is the need for secrecy, a side effect of the patent protection process, stifling any meaningful revelations. For his academic presentation of 1821 at Berlin, Wilhelm von Humboldt wrote a brilliant and persuasive essay about the human process of documenting history. He described in detail the methods with which historians go about writing history, combining two forms of intelligent thought when they work. Historians begin with the exact, impartial, critical investigation of the events; which they combine with an intuitive understanding of the structure of the events. At the same time, Humboldt insisted, historians must suppress a third form of thought: their imagination. Humboldt's assessment reconfirmed a very old Epicurean viewpoint which asserted there are three basic kinds of thinking in our heads at all times: first, we have the information received directly from our senses. Next, we have preconceived or Innovative ropes and rope applications intuitive notions (which the Greeks called the prolepsis) providing us with a framework into which sensory input is placed. Lastly, ideas subsequently arise in our imagination which have come out of the other two kinds of thinking. Very often, this happens with a sudden burst of energy. We call it a brainstorm. We compare it to a bolt of lightning or an illuminating lamp switched "on".
 Author(s): Sayenga, D.