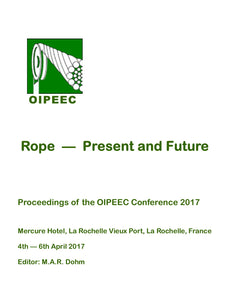 Modelling the thermal properties of large diameter fibre ropes
This paper presents a study on the thermal behaviour of fibre ropes. In particular, it investigates whether measurements of the rope's surface temperature can be used to predict the remaining useful life through mathematical modelling of the heat transfer in the rope during operation. The main findings are that using simple separate 1D longitudinal and radial models, are not sufficient to capture the correct behaviour of fibre ropes. At least 2D models are required to obtain sufficiently accurate information of the temperature field, to determine the rope's temperature, and subsequently an estimation of the rope's deterioration. Furthermore, based on the 1D longitudinal model, the changes in temperature as the rope deteriorates, are found to be too small to serve as good condition indicators for continuous monitoring during active heave compensation. However, by looking at the cooling process after stopping the operation, there might be strong signals that can give indications on the rope's condition, and can serve in conjunction with the Arrhenius equation to predict the remaining useful life.
Author(s): Oland, E., Bossolini, E., Nielsen, O.W., Sørensen, M.P., & Veje, C.T.