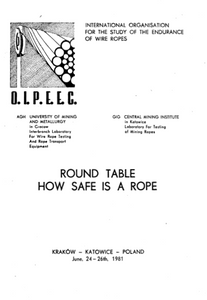 PROBLEMS OF SAFETY AND OF PRINCIPLES OF ROPE DISCARDING CRITERIA.
RoundTable – HOW SAFE IS A ROPE? – Krakow 1981
1.Introduction
The questions of the durability, of the safety factor and of the discarding criteria are so interconnected that their separate investigation in analysis of; the rope in operation is practically impossible.
Author: Juliusz Stachurski