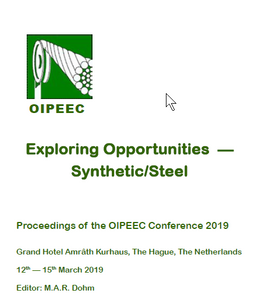 REALISTIC TESTING AND DEVELOPMENT OF HIGH-PERFORMANCE SYNTHETIC FIBRE ROPE SLINGS
Summary
In recent years, synthetic fibre rope slings have proven their value due to their intrinsic characteristics, which include equivalent load bearing capacity for the same diameter, lower weight, and user-friendly ergonomics, enabling easier handling and faster lifting operations compared to steel wire rope (SWR) slings.
Even though successfully used in some projects, widespread usage of synthetic fibre rope slings has been hindered by their novelty in comparison with SWR slings, and the limited knowledge regarding performance characteristics and discard criteria.
The Heavy Lifting Development Program (HLDP), described in this paper, is an unprecedented program designed to evaluate the effect of multiple parameters, through testing under realistic, dynamic loading scenarios, as well as the interaction of these parameters by using Design of Experiment (DoE) methodology. Repetition of the dynamic loading scenarios provided a simulation of repetitive use, creating a basis for safe and reliable reuse.
All the work was performed in accordance with DNV-GL "New Technology Qualification" framework, with the goal to achieve full certification in accordance with DNVGL-OS-E303 standard. For that, DSM Dyneema®'s SK78 High Modulus Polyethylene (HMPE) fibre, fulfilling DNV-GL requirements for offshore certification [1], was used to manufacture all tested slings based on braided ropes with diameters in the range of 52 to 96 mm.
The outcome of the HLDP will make slings safer, more reliable/predictable, and more cost-effective due to evidence supporting repetitive use. The data generated will also provide offshore installation companies with the ability to determine and predict sling behaviour as basis for safe use and design and operational optimizations (savings) in lifting projects.
Keywords: synthetic, HMPE, fibre, rope, slings, high performance, offshore, lifting.
Author(s): R. P. Faria and P. de Jager