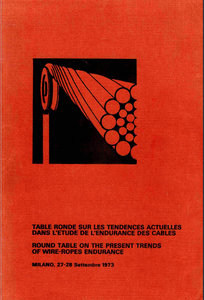 Relation entre le moment de torsion, Ia force de traction et Ia torsion dans les cables.
Round Table On The Present Trends Of Wire Rope Endurance – Milano 1973
 Introduction
Tandis quedans une barre homogene, le moment de torsion ne depend que de la rigidie de torsion et de la torsion (=l'angle de torsion a l'unite de la longueur),_il est, dans un cable, influence en plus par la fabrication du cable et la force de traction, parce que les fils ne sont pas parallels a l'axe de cable. [1, •• 10].
Author: W. KOLLROS