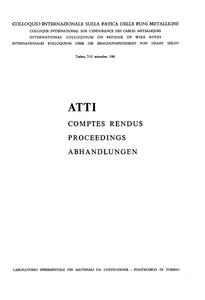 Synthesis of researches on flexible . wire ropes fatigue in the different countries
English Translation begins on page 17.
One hundred and twenty-seven years have passed since the first wire ropes were made, thanks to the inventive and constructive genius of the German, W. A. J. Albert. They were installed July 23, 1834, in the Carolina mine shaft in Germany, near Clausthal.
Author: Prof. RENATO GIOV ANNOZZI