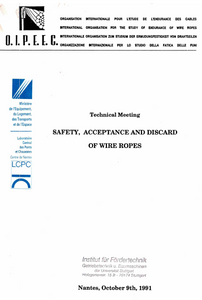 The Safe Load of Winding Ropes in Large Koepe Hoists An Assessment Based on Nondestructive Testing
Technical Meeting SAFETY, ACCEPTANCE AND DISCARD OF WIRE ROPES – Nantes 1991
The ropes of Koepe hoists in mines are subjected to static and dynamic stresses. Further stresses result from the structural geometry of the rope drive and from the climatic conditions in the shaft. These stresses on the ropes cause wire breaks, corrosion, wear and slackening which reduce the load capacity of the ropes in the course of their service life. The various forms of damage occur either individually or combined. For some years the DMT Institut für Förderung und Transport (former name: WBK-Seilprüfstelle) has been using a rope testing device which determines the said forms of damage both qualitatively and quantitatively. This device is equipped with three different sensors. The respective measuring circuits operate on the principle of:
- the magnetic stray flux
- the magnetic flux and
- the optical measurement of the diameter.
Author(s): D. Fuchs & R. Schröder