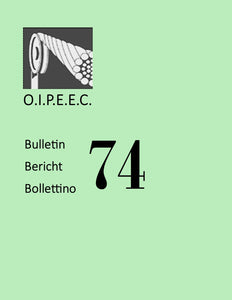 Working Group 4 : Wire rope in civil engineering applications
The working group "Wire Ropes in Civil Engineering" was approved during the OIPEEC General Assembly in Delft, on 9th September 1993. Today, it does not run effectively as a working group because of no active Cooperation between laboratories from several countries. However a research programme is running in France, led by LCPC, with the participation of some Universities. A general scheme for this research was presented in Nantes, during the 1991 General Assembly. ln 1993, the research project begun to run and a first call for foreign co-operation was launched in Delft, with the approval of the new working group. No success. ln 1995, first results were presented in General Assembly of Stuttgart with more detailed guidelines and a second call for co-operation was launched with the same result . ln 1997, referring to the initial decision leading to the establishment of OIPEEC which implied a "general co-ordination of studies and researches on wire rope fatigue", some precise proposals are made and a call launched again for volunteer laboratories so as to gather energies, cumulate results and make the data handling more reliable. The proposals follow the general guidelines of the research programme presented in 1991 and are linked with the research results at French level, which are as follows :
 Author(s): Gourmelon, J.-P.