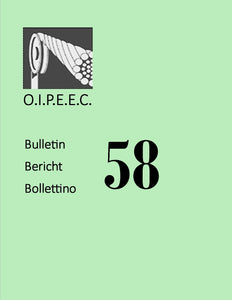 Working Party 1 Experimental endurance studies
Report of the coordinator Prof. Ugo Rossetti at the meeting of September 7th, 1989 in Zurich.
2. Proposal of Prof. Renzo Ciuffi of the University of Florence on Wire ropes fatigue research : scale effect tentative program.
3. Complementary report of the G.I.G. Central Mining Institute - Katowice on BLP 2.
4. Complementary report of Dr. Laurus Wiek of the Laboratory of the Technical University of Delft on BLP 2.
Author: U. Rossetti